Midnight Sun Signs Binding Letter Of Intent And Term Sheet To Acquire Remaining 40% Of Zambian Licences
Vancouver, British Columbia, February 20, 2018 – Midnight Sun Mining Corp. (the "Company", "MMA" or "Midnight Sun") (TSX-V: MMA) is pleased to announce that it has signed a binding letter of intent and term sheet (the "Binding Letter and Term Sheet") with Kam Chuen Resource Holdings Inc. ("Kam Chuen"), its joint venture partner in Zambian High Light Mining Investment Limited ("ZHLMIL"), to acquire the remaining 40% interest in ZHLMIL (the "Purchased Shares").
Midnight Sun Agrees to Acquire Kam Chuen's Outstanding 40% Ownership in the Licences
Midnight Sun previously satisfied its obligations under the Option Agreement with Kam Chuen, originally announced on November 29, 2013, pursuant to which it acquired a 60% interest in the Solwezi Group of Exploration Licences (the "Licences") from Kam Chuen, as shown in Illustration 1.0 – The Solwezi Group of Licences.
On February 18, 2018, Midnight Sun and Kam Chuen signed a Binding Letter of Intent and Term Sheet for the Company to acquire the remaining 40% interest in ZHLMIL for aggregate consideration of CA $30 million in cash payable over time, as illustrated below in Table 1.0 below (the "Acquisition").  The Acquisition will give Midnight Sun 100% equity ownership of ZHLMIL, which holds the Licences, and Kam Chuen will maintain a 2% net smelter returns royalty covering the Licenses.
The Company's President and Chief Executive Officer, Brett Richards stated: "The acquisition of the remaining 40% of Zambian High Light Mining Investment Limited represents tremendous value and future optionality for Midnight Sun shareholders. With Midnight Sun now controlling 100% of the Licences, it will be able to efficiently drive and execute on its work programs in 2018 and 2019 by controlling all aspects of the exploration project.  Assuming positive results in our forthcoming programs, I feel that the deferred payment structure provides Midnight Sun with adequate time to complete a large portion of our exploration work, whereby the increase in value will more than substantiate the current valuation of the payment structure.  By owning 100% of the Licences, it also makes potential new partnerships and joint ventures much more attractive to third parties."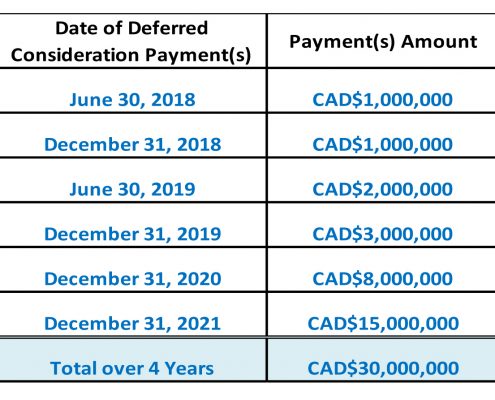 Table 1.0 – Deferred Consideration Payments
Completion of the Acquisition is subject to a number of customary closing conditions, including, but not limited to, the Purchased Shares not being subject to any encumbrances or transfer restrictions; TSX Venture Exchange conditional approval of the Acquisition; no material adverse change to ZHLMIL; and that any other required Zambian corporate or securities law approvals shall have been obtained.
As security for the deferred consideration payments, a portion of the Purchased Shares will be placed in escrow by MMA with an escrow agent on closing of the Acquisition and will be held as security in favour of Kam Chuen.  A proportionate amount of the Purchased Shares will be released to MMA as the deferred payments are satisfied. In the event of a payment default by MMA, the escrowed Purchased Shares will represent the sole and absolute recourse of Kam Chuen.  As part of the definitive documents for the Acquisition, MMA and Kam Chuen will enter into a shareholder and governance agreement for ZHLMIL in the event of any reacquisition of the Purchased Shares by Kam Chuen following any default by MMA.
Entities affiliated with Kam Chuen hold 9,437,500 common shares of the Company (representing approximately 12.32% of the outstanding shares), and as such, the Acquisition constitutes a "related party transaction" under Multilateral Instrument 61-101 – Protection of Security Holders in Special Transactions ("MI 61-101"). Accordingly, the Company is required to obtain "minority approval" (as such term is defined in MI 61-101) of the Acquisition at a special meeting of shareholders of MMA. Additional details regarding the date of the special meeting of shareholders of the Company to approve the Acquisition will be provided to shareholders in due course.
The Solwezi Group of Exploration Licences
The Licences consist of two individual exploration licences, 21509-HQ-LEL (formerly 14039-HQ-LPL) and 12124-HQ-LEL, covering over 506 km2 of surface area.  The Licences are located in the Northern province of Zambia, adjacent to Africa's largest copper producer, the Kansanshi Mining Complex, on the prolific Zambia-Congo Copper Belt.
Illustration 1.0 – Solwezi Group of Licences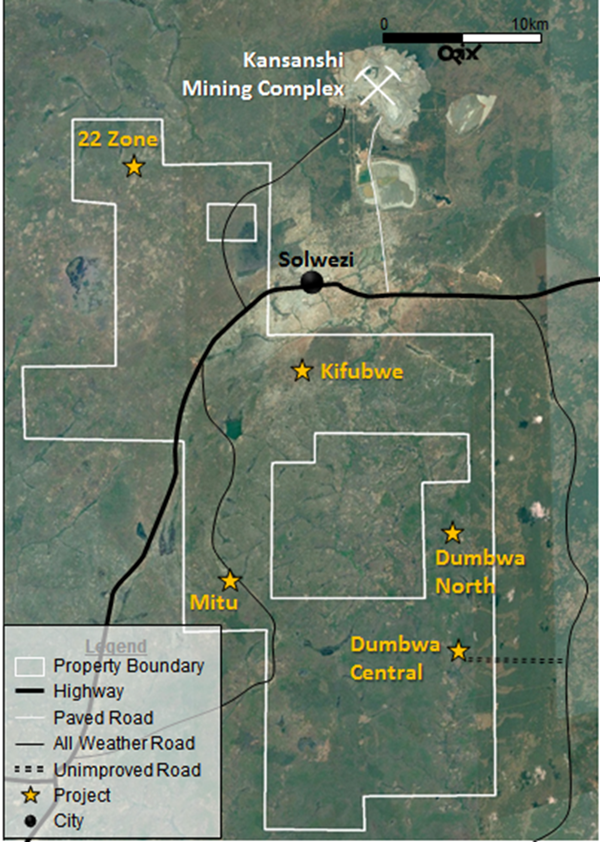 Please also refer to the Company's previous news releases as well as the Company's presentation on its website at:  www.midnightsunmining.com.
ON BEHALF OF THE BOARD OF MIDNIGHT SUN MINING CORP.
Brett A. Richards – President and Chief Executive Officer
For Further Information Contact:
Brett A. Richards                                                         Al Fabbro
President and Chief Executive Officer                       Lead Director
Tel:  +1 905 449 1500                                                 Tel:  +1 604 351 8850
NEITHER THE TSX VENTURE EXCHANGE NOR ITS REGULATION SERVICES PROVIDER (AS THAT TERM IS DEFINED IN THE POLICIES OF THE TSX VENTURE EXCHANGE) ACCEPTS RESPONSIBILITY FOR THE ADEQUACY OR ACCURACY OF THIS NEW RELEASE.
This news release includes certain statements that may be deemed as "forward-looking statements" within the meaning of applicable Canadian securities laws.  All statements in this release, other than statements of historical facts, are forward-looking statements, including, without limitation, statements pertaining to completion of the Acquisition and any approvals required in connection with the Acquisition.  Although the Company believes the expectations expressed in such forward-looking statements are based on reasonable assumptions, such statements are not guarantees of future performance and actual results or developments may differ materially from those in forward-looking statements.  Factors that could cause actual results to differ materially from those in the forward-looking statements include:  changes in market conditions, unsuccessful exploration results, changes in the price of commodities (particularly copper, cobalt, gold and nickel), unanticipated changes in key management personnel and general social, economic or geo-political conditions.  Mining exploration and development is an inherently risky business.  Accordingly the actual events may differ materially from those projected in the forward-looking statements.  This list is not exhaustive of the factors that may affect any of the Company's forward-looking statements.  These and other factors should be considered carefully and readers should not place undue reliance on the Company's forward-looking statements.  The Company does not undertake to update any forward–looking statement that may be from time to time by the Company or on its behalf, except in accordance with applicable securities laws.
https://midnightsunmining.com/wp-content/uploads/msm-logo-logomark.svg
0
0
Craig Paterson
https://midnightsunmining.com/wp-content/uploads/msm-logo-logomark.svg
Craig Paterson
2018-02-20 06:59:24
2018-04-25 10:53:50
Midnight Sun Signs Binding Letter Of Intent And Term Sheet To Acquire Remaining 40% Of Zambian Licences